Dead Heat
by
Patricia Briggs
Also by this author:
Night Broken
,
Fire Touched
,
Shifting Shadows
Published by
Penguin
on 2015-03-03
Genres:
Fantasy
,
Fiction
,
General
,
Urban
Pages:
336
Format:
eARC
Goodreads
THE NEW CHARLES AND ANNA NOVEL
Praised as "the perfect blend of action, romance, suspense and paranormal,"* the Alpha and Omega novels transport readers into the realm of the werewolf, where Charles Cornick and Anna Latham embody opposite sides of the shifter personality. Now, a pleasure trip drops the couple into the middle of some bad supernatural business…



For once, mated werewolves Charles and Anna are not traveling because of Charles's role as his father's enforcer. This time, their trip to Arizona is purely personal--or at least it starts out that way...




Charles and Anna soon discover that a dangerous Fae being is on the loose, replacing human children with simulacrums. The Fae's cold war with humanity is about to heat up—and Charles and Anna are in the cross fire. 
I have been eagerly waiting for the next Charles and Anna book and Dead Heat absolutely delivered. Charles decides to take Anna to meet a dear friend of his, Joseph, who he knows he will lose soon due to old age. What he doesn't realize is that Joseph may leave this world sooner than anticipated due to illness. What starts out as a simple visit to a friend, turns into a fae hunt when a relative of Joseph's is found under the spell of a dangerous fae. Charles and Anna lend their skills and work with the local pack to hunt down the fae responsible for going after Joseph's family but what they find made even my stomach turn.
Briggs put together a unique and gut wrenching tail that reminds you just how evil monsters can really be. The fae responsible is not going to give up and having gone after Joseph's family once before, he decides to go after them once again and only quick thinking will save the victims from a fate worse than death. With children involved, every second counts and Charles and Anna fight tooth and nail to save the day.
I really enjoyed Dead Heat. There were moments of sadness and moments of joy. More than just a suspenseful story, Dead Heat makes you really think about life and death and the value that loving someone has. An absolute must read for an Urban Fantasy lover.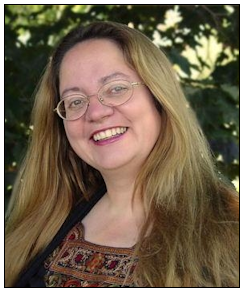 Patricia Briggs, the #1 New York Times bestselling author of the Mercy Thompson series, lives in Washington State with her husband, children, and a small herd of horses. She has written 17 novels to date. Briggs began her career writing traditional fantasy novels, the first of which was published by Ace Books in 1993, and shifted gears in 2006 to write urban fantasy. In Fall 2010, Patricia made another foray into traditional fantasy, when Ace published a revised version of her very first book, Masques (2010), and its never-before-published sequel, Wolfsbane (2010), both of which debuted on the New York Times bestsellers list for Mass Market Fiction.
In 2006, Ace Books published Moon Called, the first book in her #1 New York Times bestselling—and signature series—about Mercy Thompson. The non-stop adventure left readers wanting more and word of this exciting new urban fantasy series about a shape-shifting mechanic spread quickly. Blood Bound (2007), the second book in the series, debuted at #12 on the New York Times bestsellers list. After the incredible success of Iron Kissed (2008), which landed at #1 on the New York Times list, the Mercy Thompson saga continued to win the hearts of readers and grew in popularity with the release of each book. Bone Crossed (2009), the fourth book in the series and first to be published in hardcover, debuted at #3 on the New York Times Hardcover bestsellers list, where it stayed for four weeks. The most recent hardcover, Silver Borne (2010), debuted at #1 on the New York Times Hardcover bestsellers list and stayed on the printed list for a total of three weeks!
Briggs also writes the Alpha and Omega series, which are set in the same world as the Mercy Thompson novels. What began as the novella "Alpha and Omega" in an anthology called On the Prowl (2007), was then expanded into a full new series. The subsequent books were Cry Wolf (2008) and Hunting Ground (2009), both New York Times bestsellers. The third book of the Alpha and Omega series is Fair Game (2012) and debuted at #4 on the New York Times bestsellers list. For more information about Patricia Briggs and her marvelous novels, feel free to visit the author on the web at www.patriciabriggs.com.